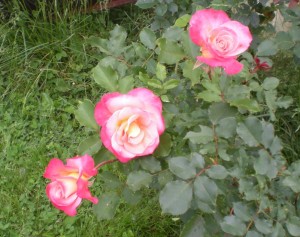 ~~~  Site Updated 01/23/18 and  *** Indicates the New Information between ***  for most recent updates even in an existing topic ~~~
### TCK_TAB is for this site as of 01/09/17 with Audio Blog Feed available to subscribe to receive future Audio messages. Latest Audio Blog is "Empowerment" on 02/22/17! ###
*** TCK_NOTES page added with separate 2016 and 2017 'Local Sermon Notes by Tonja Condray Klein'  and separate TCK_Essay page for easier navigation as of 01/09/17! Most recent Essay is "When It Hurts Too Much To Laugh Or Cry" on 06/27/17 ***
RADICAL ISLAMIC TERRORIST GROUP ISIS IS NOW KILLING CHRISTIAN & JEWISH PEOPLE IN THIS WORLD. WE NEED TO PRAY FOR THOSE IN DANGER  TO HAVE THE STRENGTH TO SURVIVE. TO THOSE DOING THESE ATROCITIES, JESUS CAN STILL SAVE YOU TOO IF YOU DENOUNCE THE VIOLENCE!

If you want to renounce a life filled with hatred and violence, the One True Living God Almighty will forgive you if you ask Him to forgive you in the name of Jesus Christ who died for you even though He saw what you would do before you found His Truth. Turn from the lies of the false religions and meet the Savior by praying and believing: "Father God, I come in the name of Jesus. I believe Jesus died for me in spite of my sins, hate, and believing lies that led me to do things I shouldn't have. I know You can forgive me and help me to turn away from the wrong and turn to the right way of Your purpose, plan, and provision. Give me the strength to live for you now. In the name of Jesus I pray. Amen."
Whether a descendant of Ishmael, Isaac, or a gentile of some other nation, Jesus died for you and will SAVE YOUR SOUL!!!
Below are signs from 2012-2015 then 07/07/17 that happened to give an understanding to those who will see the Truth of time…
Unrest in Libya, Syria, Greece, England, and France. With even more intensity in Sep 2012 for Iran and Egypt then Iran and Israel in 2013 and to Feb 2014. ***  "Nuclear deal" in 2015 that leaders did with Iran is something every single person should question! It does, however, begin the line-up of nations that are mentioned in biblical prophecies that will trigger the end of the current Grace Dispensation and begin the time of the Great Tribulation period this website is trying to educate those who will be willing to read, question, and seek the Truth. ***

Earthquake Info in Topic area below have updates to 01/23/18! You can see the information for earthquakes and other geological data and do a search for documented period at: http://www.usgs.gov .
Earthquakes in Haiti, Japan, Costa Rica, China, in the states of Maine and New Jersey USA, Guatemala in Nov 2012,  in Iran and Japan (again) in 2013, then China again and South Carolina in the USA in Feb 2014 — Update: Another quake 02/16/14 in SC again! There have also been several others in several places the last few months and most recently this August 2014 in Mexico, Federal States of Micronesia, China (again), and South Africa.  On 08/24/14  a 6.0 magnitude quake in  California's Napa Valley.  7.8 magnitude in Nepal on 04/24/15 and aftershock of 6.5 on 04/26/15  – PLEASE PRAY FOR THOSE IN THE AFTERMATH! 05/03/15 – 3.8 quake in Los Angeles, CA; 05/10/15 – 5.1 & 5.3 and 05/15/15 – 4.7 & 5.1, all in Japan region; 05/18/15 – 3.1 in Texas USA. ***05/29/15 – 05/31/15 = 7.8 in Japan with several a day before and the day after, 5.9 off coast of Oregon in the USA, and 6.7 near Alaska.  There were several others around the world that were smaller. 07/07/17 = 5.8 in Montana, USA. 07/21/17 = 6.9 in Greece island area. 01/23/18 = 7.9 off Alaska coast, USA ***

Volcanic eruptions in Nicaragua and Guatemala in Sep 2012.  The strong Hurricane Sandy and Nor'easter in the U.S. coast Nov 2012. Droughts, floods, fires, and tornadoes in Sep-Oct 2012, in 2013, and now again in 2014 in the United States. Major snow storms all across America as recently as Feb 2014 that affected even the southern states dramatically. ***Eruption in Chile on 04/23/15 ***

The Financial wavering of many nations that were once strong and influential along with these other things are signs of the times, and since the Bible speaks of them either directly or indirectly by their association, it is reasonable to conclude that the more they happen the more we need to ask what it means.

Although these things have been going on in some way, shape, or form in human history, increasing frequency and severity seem to be pointing toward more Biblical prophecies soon being fulfilled. If they haven't happened yet, we at least know it is getting closer to a worsening time since things seem to be escalating. This foresight is better than hindsight when it comes to the security of your life and especially the ending zone of your soul.
These signs are precursors to millions, possibly billions, suddenly disappearing in a single moment of time. Scripture leads many to believe that this will happen before the brunt of judgment comes, though it is possible the Christians will be here for some of these initial major problems before those people are supernaturally evacuated. There will be explanations – like alien abductions or some new kind of bio weapon – the truth will be that all Christians who asked Jesus to forgive them by believing He died for them will be taken out to safety before the worst of the Tribulation happens.
To clarify, there will be immense plagues and diseases, cataclysmic natural disasters, and forced monetary identification that no one will be able to buy or sell any goods without. It might seem like a good idea at the time and may be voluntary at first due to major problems then. Thing is, in order to get the final ID, you'll have to accept a certain leader as 'god'. That may not be a problem for many people, but once you do that, your soul will be lost forever because you will be pledging your soul to the demonic enemy of humankind even though he will be in human form and seem like a hero of peace to the world at first.

This person will be a counterfeit of Jesus Christ. He is known as the anti-Christ in the Bible but will have a human name and be seen as a great and powerful person during turbulent problems before he claims to be a god or messiah. This is not a game; this is a very real sequence that you must try to understand before it's too late. This site is to give you the Truth to keep from making a wrong decision. Your soul will be at stake, so please don't take this future ID even if you have to give up your mortal life in the end to keep from it.
The choice is yours… please read this site to understand what it could mean for you. You can always contact the site using either Facebook  link to ask valid questions. An answer will be given as soon as possible if you provide a real email and not try to spam it. This will hold true as long as the site is up!

The comment ability has been removed from this site due to many spammers attempting to use this bandwidth to just sell things and this site is non-profit. If you wish to ask real questions about the content or to ask for prayer, please private message Tonja Klein on Facebook. ALL the messages will be monitored for security and safety of her and this site since there are those who do not want the Truth to be known. There may be a delay in a response, but it will be given as soon as deemed possible.
BELIEVERS ARE PRAYING FOR YOU WITH HOPE & LOVE!
*** All Pictures and Text except for Bible references are owned by Tonja Condray Klein and used for this info website in 2010–18 ***